David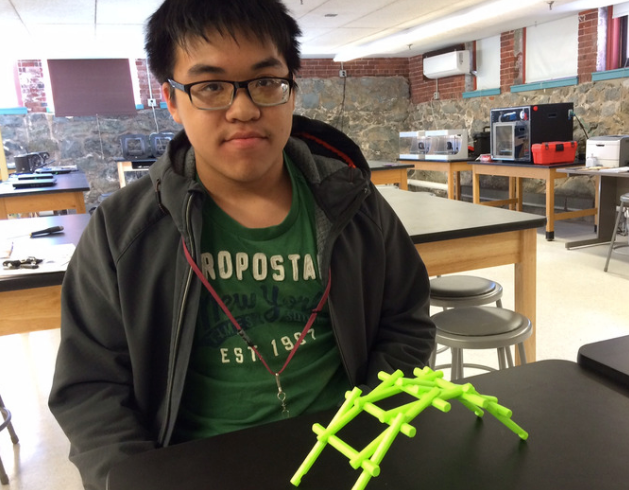 David shared with us his experience at the Project LEARN-supported Maker Space at Lowell High School. Check out his story!
The Maker Space Club is a place where those who are creative, innovative, and above all else, have a desire to create things, can thrive. Anyone can join, there is no set schedule to follow, and the club is open from the final bell to 4:00 pm., Monday through Thursday. The club, which is led by Ms. Vilcans, provides students access to seven Cube 3D printers, two Mark One 3D printers, one NV Bot 3D printer, a laser printer, and materials needed for crafting. The club uses a website called Tinkercad, which is part of a software company called Autodesk, which specializes in creating apps for 3D modeling, circuitry, and CAD tools. Tinkercad is a website for 3D modeling through geometric modeling kernels, or pre-made objects, to assist in making 3D objects. The club also uses a website called Thingiverse from a 3D printing company called MakerBot, which is used to share designs, download designs make by others, and edit the designs made by others. However, before creating the object, the file needs to be prepared using programs to convert the file for the desired printer. For example, the Cube printers use their own program to convert the file to the type of file used specifically for the Cube printers. The Cube printers would be used for relatively small projects, the Mark One printers would be used for a specific type of plastic, such as nylon or kevlar, and the NV Bot printer would be used for larger scale projects. The laser printer is used for making projects as well, though it does not print as a regular printer or a 3D printer. Rather, it cuts away at an object in order to make the project. With this, not only can you print out pictures and any other 2D project, it is able to laser print almost anything, including steel, and is able to make 3D objects as well. Although the machines seemingly present themselves so that the creator may focus on that, the club is not focused on them at all. Rather, it is focused on the creation of objects, including those that are not related to the machines at all. The member is able to get materials that are needed online and is able to make anything using those materials obtained, though the cost spent is restricted. For example, a member within the club was able to obtain a small motor, a battery, foil tape, and copper wires to make a circuit on a piece of paper that resulted in the motor being able to run perfectly. In short, the MakerSpace Club is a place where those who want to create things may meet to do so. With the help of 3D printing, laser printing, and websites, one is able to create virtually anything, provided it is legal and within the rules of the school.
The MakerSpace Club is useful for imaginative people, as it provides an opportunity for the creator to explore different topics, concepts, and ideas in order to make a project. One resource is the website Thingiverse, where designs are shared to all. In this place, the creator is able to look at different ideas made by other people, and from seeing the ideas, be able to understand how it is made and be applied to making a project. For instance, I, as a creator, would never have known what topology is if I had not joined this club. I would not have explored the Thingiverse website to find some things that look interesting, such as topological shapes. I would never have explored the interesting mathematical branch that involves the transformation of objects within the bound rules of topology. I would never have known what klein bottles, Hilbert's Cubes, seifert surfaces, or trefoil knots are. I would not have tried to explore different concepts of mathematics in order to make a part of a step motor. Essentially, the club allows the creator to think, explore, and combine ideas to make a project, allowing further creativity and ingenuity to develop within the minds of the members of the club.