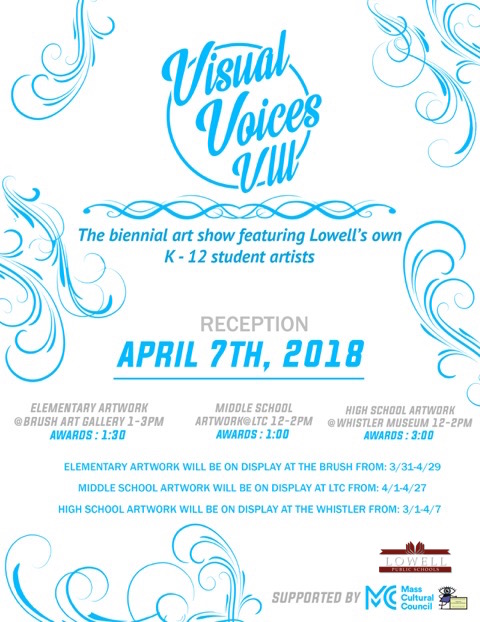 The  Art Exhibition Committee, made up of art teachers from the Lowell Public Schools is proud to announce Visual Voices VIII, the biennial art show featuring works by Lowell K-12 student artists. Visual Voices started at the Brush Art Gallery Studios in 2002 by Brush resident artist and Lowell Public School art teacher Lolita Demers and has grown to become a citywide tradition thanks to the efforts of Lolita, art teachers across the district and city, local art galleries and Lowell's incredible student artists. The Art Exhibition Committee, Lolita Demers, Julia D'Angelo, Chrissy Dixon, Erin Noonan Descoteaux, Denise Piekos, Marta Magnus, Katy Sheridan and Sharon Clark organize, plan and manage this multi-venue event showcasing the talented students of Lowell.
Support young and creative artists of Lowell by making a donation today!
Thank you to those who have already donated to support creative thinkers here in Lowell: Kerrie D'Entremont, Brian Martin, LZ Nunn, Nora Burchfield, Shamir Rivera, Amsi Morales, Shalmai Rivera, John Wooding, and Stephanie Liakos.
Receptions and awards presentations are as follows on Saturday April 7th:
LTC reception               12-2pm         Awards @ 1:00pm
Brush reception           1 - 3pm         Awards @ 1:30pm
Whistler reception       2 - 4pm        Awards @ 3:00pm
Please join us for an amazing afternoon of art!
Check Out the Artwork on Display in March and April:
| | ELEMENTARY SCHOOLS: | MIDDLE SCHOOLS: | HIGH SCHOOLS: |
| --- | --- | --- | --- |
| Dates | Artwork will be on display from 3/31-4/29 | Artwork will be on display from 4/1-4/27 | Artwork will be on display from 3/1-4/7 |
| Locations | Brush Gallery: 256 Market St. | LTC: 246 Market St. | Whistler House: 243 Worthen St. |
| Questions? | email questions to Julia jdangelo@lowell.k12.ma.us | email questions to Denise dpiekos@lowell.k12.ma.us | email questions to Marta mmagnus@lowell.k12.ma.us |