Students raise flags for public art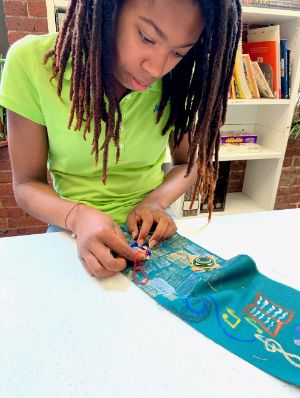 "Jack's Flags" will be in Kerouac Park through the entire month of June
Lowell Sun Article, June 10, 2019 by Nicole DeFeudis, ndefeudis@lowellsun.com
LOWELL —STEM Academy fifth-grader Gregory Mujica giggled as he explained his masterpiece — a green fabric flag he decorated in art class. STEM art teacher Setheyny Loeub-Pen told her students to create flags that convey the importance of reading. Originally, Mujica planned to draw Shrek characters on his green 5-by-20-inch piece of fabric. "But then I just thought 'there's no message to this,'" he said, later adding that he reads every day. So he went with a rendering of Danny Devito with a furrowed brow, reading a Shrek book. Around the silly drawing, Mujica scrawled, "Even Danny Devito reads, so you should too." His fellow students and Pen laughed along with him.
On Tuesday, the flag will be strung in Kerouac Park with over 800 others created by Lowell students. The installation is named "Jack's Flags," after the esteemed Lowell-born novelist. The project was a collaboration by Project LEARN, a nonprofit supporting Lowell Public Schools, and ArtUP, a program that was initially created to bring local art to the Lowell Community Health Center. Michael Gallagher, Project LEARN board member and ArtUp founder, sees Lowell as a canvas — one that students and local artists can fill. "(Artistic expression) excites and it inspires and it motivates," said Gallagher, who is also an attorney at the Lowell law office Gallagher & Cavanaugh.
When the collaboration was set in motion months ago, art teachers and volunteers brainstormed a project that could involve hundreds of children. And thus, "Jack's Flags" was born, inspired by Tibetan prayer flags.
Read more: http://www.lowellsun.com/local/ci_32675682/students-raise-flags-public-art