Student ideas come to life at camp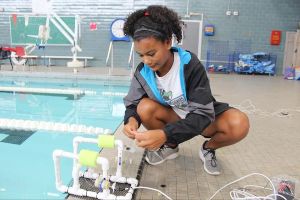 Taija Bell, a rising eighth-grader at Joseph G. Pyne Arts Magnet School, puts the finishing touches on an underwater robot she built at IDEA Camp. (Nicole DeFeudis / Lowell Sun)
IDEA Camp teaches students to build to their dreams
Nicole DeFeudis, ndefeudis@lowellsun.com
LOWELL — After about a week of constructing an underwater robot from PVC pipe, propellers and pool noodles, rising eighth-grader Walter Palacio drops it into the pool. The front of the robot lifts up as Palacio navigates it around the shallow end of the University of Massachusetts Lowell Campus Recreation Center pool — it is too buoyant. Palacio made his robot in IDEA Camp, a collaboration between the UMass Lowell Francis College of Engineering and Lowell Public Schools. The contraption can submerge, spin, travel across the pool and resurface. Now, it needs weight to hold down the front end. "Where should I put the weight?" he asks a camp instructor, who encourages him to think about it logically.
After mulling it over, Palacio uses string to tie small silver weights to the front of the robot. Much better. It's not every day that most teenagers build robots, pick up a soldering iron, or code a video game. But it is at IDEA Camp, where Lowell teachers guide kids through week-long science and engineering workshops.
The program began about 20 years ago as UMass Lowell's Design Camp. It evolved into IDEA Camp about seven years ago when UMass Lowell partnered with
the public school system, said Lowell Public Schools Science and Social Studies Coordinator Martha Cohn. This year, close to 300 students attended three week-long workshops, ranging from crime science to architecture to coding. 
Read more: http://www.lowellsun.com/todaysheadlines/ci_32739771/student-ideas-come-life-at-camp