Lowell school program breaking the code to 'infinite options'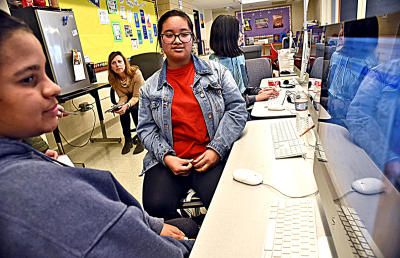 By Elizabeth Dobbins, edobbins@lowellsun.com
UPDATED:   04/03/2019 02:13:43 PM EDT
LOWELL -- Players must capture a star bouncing across the screen to win the computer game fifth-grader Melanie Charbonnier is designing. Behind all the action is an image of a galaxy. According to Charbonnier, this choice of scenery was no accident, "It shows the infinite options that girls can now have," she said.
Charbonnier is one of ten students enrolled in Girls Who Code, a 12-week after school program at Daley Middle School run by Instructional Technology Specialist Barbara Fauvel-Campbell. Project LEARN and Lowell Public Schools introduced the program offered by the nationwide nonprofit, Girls Who Code, to the district at the beginning of this school year.
In part, the program is meant to build skills students can use in higher education and the workforce. But it's also meant to address a challenge. Project LEARN Executive Director LZ Nunn said only one in five computer science graduates are women. "Unfortunately girls lose interest in science and we know this by research -- by fifth grade, sixth grade," Fauvel-Campbell said. "Whether it's not cool anymore and not something they think is girly."
Read more: http://www.lowellsun.com/news/ci_32552009/lowell-school-program-breaking-code-infinite-options#ixzz5mmY58RfO